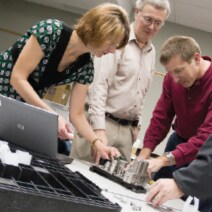 Swagelok Albany | Connecticut offers an array of courses taught by Swagelok-certified trainers at a variety of locations. These courses include both theoretical and practical training. Technicians, engineers, and maintenance technicians who take the courses will increase their skill level, knowledge, and efficiency. Please note: The Steam System Optimization course is industry-specific.
Features of Swagelok-Sponsored Training
Reliable, dependable fluid system performance that results in safer workplaces begins with proper installation.

Swagelok-certified training delivers top quality instruction at locations and times convenient for you.
Swagelok Albany | Connecticut can help you get your workforce trained on correct installation and assessment techniques that are essential for reliable system performance.
Choose from a range of courses -- please see course descriptions below.
Course Descriptions
---
Sample System Problem Solving and Maintenance (SSM)
Theory and understanding behind what makes a sample system efficient, and the components used with these systems.
In-depth discussion of how to recognize if a problem exists, along with how to repair and how to maintain a sample system in a safe manner, resulting in less downtime.
Hands-on, practical troubleshooting techniques and corrective actions to improve sample system accuracy and efficiency.
---
Process Analyzer Sampling System (PASS)
Basic performance criteria and challenges.
Diagnosing and fixing time delay problems.
Sample conditioning techniques.
Sample tap design.
Phase preservation.
Advanced calculations.
Techniques of stream switching.
---
PASS-Subsystems*
Clearly differentiate the functions that a sampling system performs.
Use each function within the sampling system to achieve best performance.
Create reliable sampling systems.
Analyze a complex system to understand it better.
Troubleshoot problem designs in the field or on the drawing board.
*No pre-requisite for PASS-Subsystems is required, but prior completion of PASS training may be helpful.
---
Orbital Welding
Basic welding principles and the fundamentals of orbital welding.
Hands-on, comprehensive review of orbital welding.
Equipment enables attendees to setup, operate, and troubleshoot equipment and critique weld quality.
Information regarding the Swagelok M200 power supply, weld heads, fixturing, and the tube facing tool.
Includes weld sample submission for ASME Section IX Weld qualification.
---
Advanced Tube Bending
How to set up and operate all three Swagelok tube benders.
Use of the Swagelok Method of Tube Bending to accurately locate and lay out multiple bends on straight tubing prior to bending.
Other topics include:

Single bends
Multiple bends
Making bends from both directions
Bend dimensioning (from blueprints)
Accurately positioning tubing for changes in plane
How to maintain equal spacing on parallel tubing runs

Applications require the attendees to bend tubing into precise shapes as specified on sketches, blueprints, as well as from actual measurements taken by the attendees from actual fluid system components.
---
Steam Basics
Overview of the properties of steam and steam systems.
Steam Basics 1 attendees learn critical areas of steam system management including steam cost calculations, flash steam, steam traps, and water hammer.
Other topics include steam fundamentals, steam quality, steam system components, flash steam recovery, and safety.
Steam Basics 2 expands on the topics included in Steam Basics 1. Includes review of Steam Basics 1, boilers, heat recovery, steam piping, condensate piping, expansion, and insulation.
---
Industry-Specific Steam System Optimization
Customized for the industry and specifically designed to address the needs of process and plant engineers. Available courses:

Refinery and Chemical Steam System Reliability, Safety, and Optimization
Pharmaceutical Steam System Training
Pulp and Paper Steam System, Reliability, Safety, and Optimization
Food and Beverage Steam System Reliability, Safety, and Optimization
---
Steam System Specialist Training
Total System Reliability, Safety, and Optimization -- reviews all aspects of a steam system.
Provides a sold foundation of understanding a total steam system from steam generation through condensate recovery.
Steam Generation Equipment and Components -- focuses specifically on steam generation equipment (boilers) and associated components.
Attendees participate in groups of 2 or 3 and gain a thorough understanding of fundamentals of boiler plant design including accessory components (turbines, deaerators, etc.).
---
Advanced Materials Training
Technical seminar that can be customized to meet local needs.
Addresses customer needs for material selection in customer applications with an emphasis on understanding and preventing corrosion.
High-value training for customers on materials and corrosion in typical customer applications.
---
To request more information on Swagelok training, please contact Pat Duffy at patrick.duffy@swagelok.com.